P.U.N.C.H for Success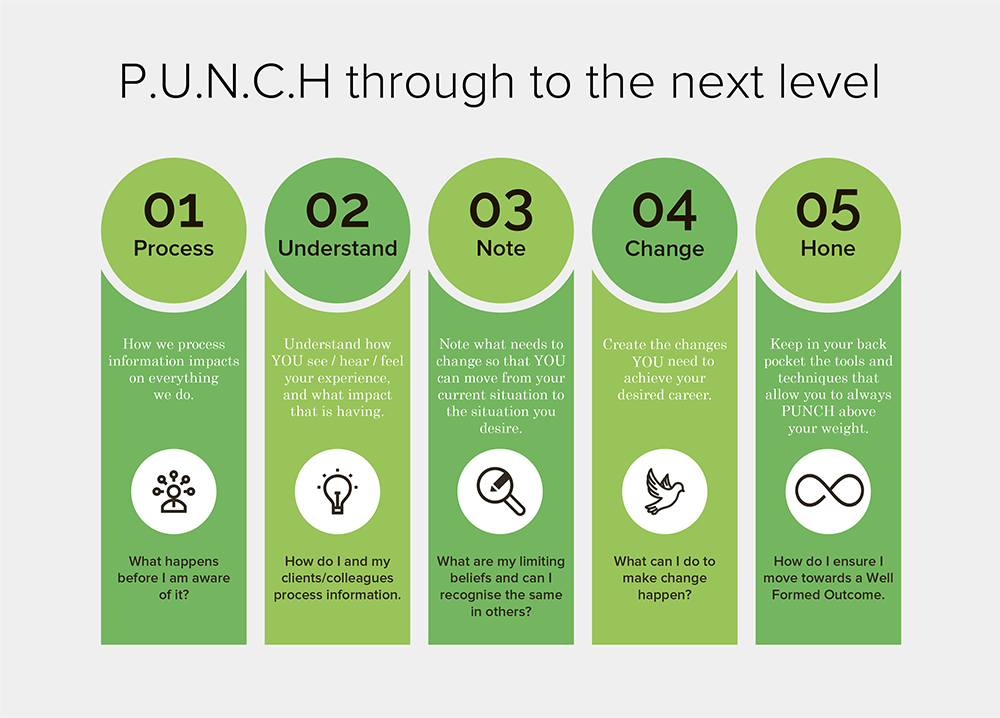 You can also click on the curriculum to see the full free Welcome and Introduction videos.
WHO is this for: Accountants in private practice or in industry.  You may be unfulfilled or frustrated in your career.  Plus you may also recognize the benefit of additional personal development.
WHAT is it for: To give you increased self-awareness and enhanced communication skills.
WHY is that helpful: You will have more impact in front of clients and colleagues.  Giving you greater influence and better results.
OVERALL OUTCOME: A more fulfilled professional role, with greater self-awareness and a tool kit to take forwards to enhance your success.
P.U.N.C.H Consists of five areas for your development:
Process:- How We Process information impacts on everything we do.  Understand this basis to ensure you build your awareness of the fundamentals of communication.
Understand:- Understand how YOU see/ hear/ feel your experience, and what impact that is having.  How we filter information is hugely influential and building this knowledge will give you confidence to consider at any changes you want to make.
Note:- Note what needs to change so that YOU can move from your current situation to the situation you desire in your career.  Complete the exercises to highlight any gaps.
Change:– Create the changes YOU need to achieve your desired career.  We show you well established and highly effective change processes so you can go forwards with new skills and behaviors to build the success you want.
Hone:- Keep in your back pocket the tools and techniques that allow you to always PUNCH above your weight and enhance your career prospects.  You will set a detailed plan for the future, with tools and techniques to help you bring that plan to life.
Course Features
Lectures

23

Quizzes

0

Duration

2 hours + Exercises and Application

Skill level

All levels

Language

English

Students

9

Assessments

Yes
Welcome (FREE to watch)

Welcome from your course trainer - Ian Kaye. Ian is a CFO, Business Coach and Business Trainer.

Introduction (FREE to watch)

The content in this course will increase your self awareness, make you a better communicator and guide you to a fulfilling career. Completing the exercises will have a great impact.

Process

What's the science behind how we process information and what impact does this have on your day to day interactions at work and elsewhere?

Understand

Build your awareness of how you filter your experiences, and therefore how your colleagues and clients are.

Note

In Note you will document any aspects of your skills, behaviours or even beliefs about what is possible in your career that you want to change.

Change

In the Change section you MUST play full-out. These coaching techniques are VERY reliable. Work through them to get the changes you want, to be the professional you want to be. Be prepared to repeat the exercises.

Hone

Hone is where you "sharpen the saw". Plan for a future you want and rework some of the previous exercises if that is relevant for you.

Conclusion